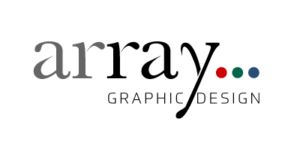 With over 25 years of experience Array Graphic Design will provide you with a comfortable design journey. From initial contact to final delivery expect a quality service and an assured and measured result.
We design! Often we are asked to do crazy things, our limitations are guided by the imagination of our clients but defined by the scope of ours. Graphic Design covers a broad range so please don't be afraid to ask. At Array Graphic Design we have developed collaborations with a diverse range of skilled IT professionals which enables us to complete your job, no matter the challenge…
Print Design
The essence of design. From Logos to Brochures, from business cards to billboards and everything in between we can deliver. Have a look at our portfolio.
Brand Identity
How you are perceived by your target audience is everything. This is an art and has to be well considered. Feel free to call us for a no obligation consultation.
Web Design/Development
The window to your business has to be beautiful and has to be seen. From design to functionality and search engine optimisation, we'll take you there.
Array Graphic Design have years of experience, throughout our journey we have worked with many designers, developers and producers, each with their own unique skillsets. Our secret is that we have never cut ties with these uniquely skilled people and love to collaborate with them to strengthen our range of services (while we strengthen theirs). In doing this we have ensured that we can deliver on a very broad range of services with design at it's core, you come to us with your problem, we deliver your solution.
Variety is the spice of life, and variety is the middle name of Array Graphic Design. Have a look at a few recent samples of our work…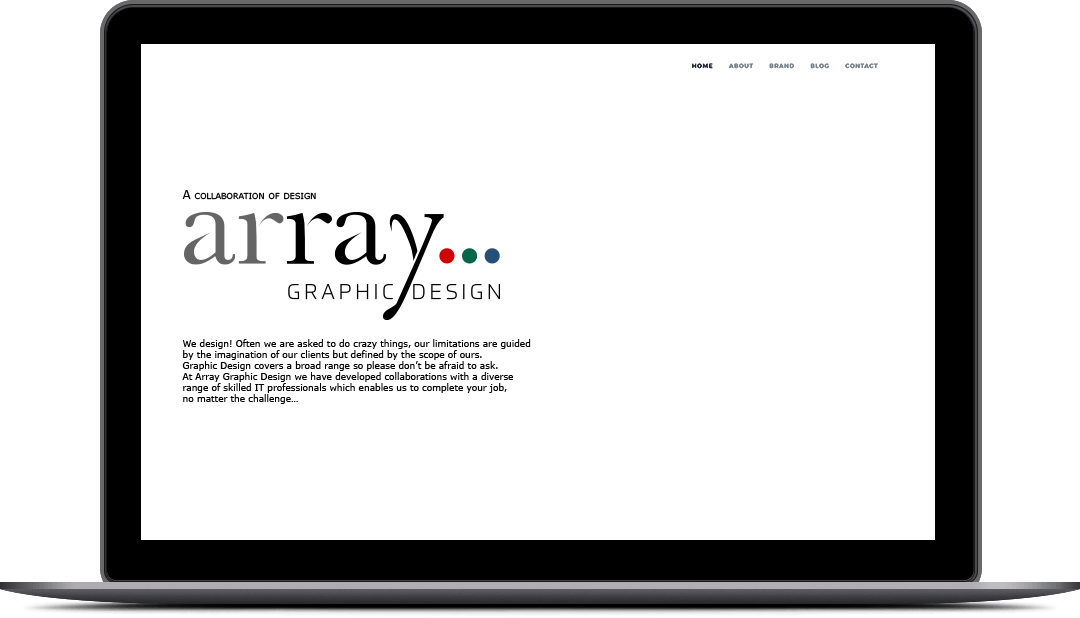 Why not have a peek at some of our past work in our Portfolio section
With our combined years of experience we have garnered quite an array of skills
(I know, sorry!)
Whilst design is the core of what we do, we recognise that in todays fast moving and competitive environment you have to keep up. To this effect we have ensured strategic partnerships with similarly skilled and experienced people, providing the end results that you need from design to marketing strategies online and offline. We love to talk about it, so feel free to give us a (non-obligated) call to see how we can help you.
Print Design – 45%

Web design – 55%

Marketing Strategy & SEO
Under immense pressure and at gunpoint we've managed to get lovely references from our clients…
"Ray provided real insights into the best online fit for our new brand.  He is long regarded as a top class designer with really strong technical insights which is the perfect blend for what we needed in launching a new brand and online profile."
"I've been getting various work done with Array Design for many years now and will continue to do so. In all dealings Array proved very professional and cooperative, no job too big. I'll continue to recommend Array to anyone in need of good design. "
"When I asked Array to help me with my image I didn't know what I needed. I now have a very solid brand from which to grow and an awareness of how to do it.  Array couldn't have been more professional and continue to be very helpful. "
"We worked with Ray for over 15 years and each year he came up with innovative and exciting designs which brought our Festival to new heights. He understood our needs very quickly and worked under great pressure at times, but always produced a dynamic and memorable brochure which helped make our Festival so successful for many years."
Let's Start Something new

Say Hello!
We pride ourselves in having a personal service, you won't be greeted by a robot! Please leave us a note and we will call you as soon as we get an opportunity.